Save The Date
2020 CASSA Conference: July 2 - 4, 2020
St. Andrew's By The Sea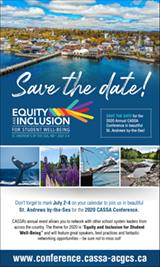 Mark July 2 - 4 on your calendar to join us in St. Andrew's by-the Sea for the 2020 CASSA Conference.
Download a handy flyer and go to our Annual Conference Web Site where information will be posted as it becomes available.
We look forward to seeing you again in 2020!
---
---
---
Health & Wellness Leadership Summit
GoodLife Fitness is bringing its nationally acclaimed Health & Wellness Leadership Summit to Calgary, Alberta on Tuesday October 22, 2019 at BMO Centre at Stampede Park and to Toronto, Ontario on Tuesday November 26, 2019 at the Metro Toronto Convention Centre, South Building.
This year's Summit will spotlight many important topics including:
Authentic Leadership - tools for building a psychologically safe and healthy workplace that supports inclusiveness, engagement and collaboration
Adapting to the Future of Digital Health – finding a balance between hi-touch and hi-tech approaches to health and wellness
Risk Management - using behavioural science to improve employees' health & support organizational objectives
Resiliency – keys to transforming workplace culture and empowering people to new heights
We are pleased to work with the organizers to extend a registration discount for CASSA-ACGCS members and guests to save up to 40% off the regular conference fee.
Download the introductory letter along with the appropriate invitation:
Introductory Letter - Ken Bain, CASSA-ACGCS Executive Director
October 22, 2019 Invitation - Calgary, Alberta
November 28, 2019 Invitation - Toronto, Ontario
---


Teachers, Copyright, and Fair Dealing
Know your rights and know your limits!

Copyright rules for educators have changed significantly in recent years. While teachers have new opportunities to use copyright-protected materials in their lessons, they also have responsibilities. There are limits to what can be copied and communicated in the classroom. Teachers must know what they can and cannot do with the copyright-protected works of others. Failure to comply with copyright law can result in a teacher, school, or school board being sued for copyright infringement.The fair dealing provision in Canada's copyright law permits teachers to copy and communicate short excerpts from copyright-protected works provided the dealing is "fair."
FairDealingDecisionTool.ca helps teachers decide, with a few clicks, whether the fair-dealing provision in the Copyright Act permits copying of short excerpts from print materials, artistic works, or audiovisual materials for students without needing to obtain copyright permission.
---
CASSA Discussion Paper